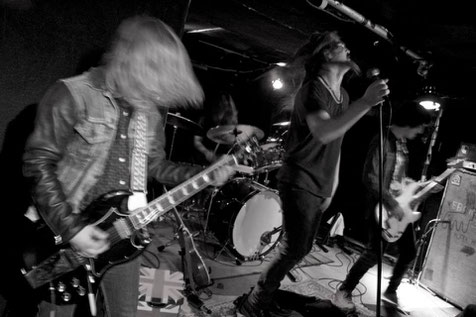 KALIFORNIA CROSSING FESTIVAL PROUDLY PRESENTS:
WARP RIDERS
Uncompromising rock'n'roll full of passion, spirit and joy. Heavy and groovy, with clear blues references and dirty sound, where instinct and emotion are more important than intellect. It is hard to imagine that these guys did not grow up in the early 70s. The young boys from Norway has been named one of the nation's most promising bands of "Pyro on p3 (National Radio), been on tour in Denmark and Germany. If you like bands living of excitement, of taking it all out, Black Sabbath riffs, interspersed with some newer stoner a la Kyuss, a dash psychedelia topped with Jimi Hendrix? Enjoy!
Kompromissloser Rock´N´Roll voller Leidenschaft, Geist und Freude. Schwer und groovend, mit klaren Blues-Elementen und dreckigem Sound, wo Instinkt und Gefühl wichtiger sind als Intellekt. Es ist schwer vorstellbar, dass diese Typen nicht in den 70ern aufgewachsen sind. Die Jungs aus Norwegen sind eine der vielversprechendsten Bands laut "Pyro on p3" und sind bereits durch Dänemark und Deutschland getourt. Wenn ihr Bands mögt, die Black Sabbath Riffs mit neueren Stoner Einfluss a la Kyuss und einem Hauch Jimi Hendrix Psychedelic verbinden? Enjoy!