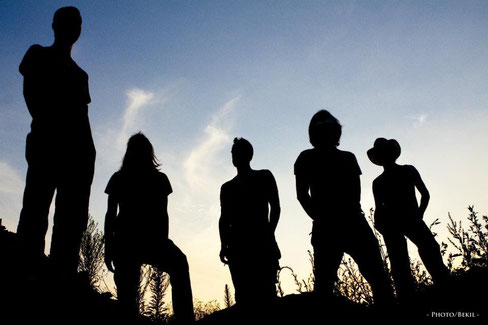 KALIFORNIA CROSSING PROUDLY PRESENTS:

BUDDHA SENTENZA
Timeless, progressive and psychedelic Krautrock 2013! Buddha Sentenza dives deeply into the early 70s sound like not many bands nowadays do. The quintet combines authentic "free-spirit-feeling" and a great musicianship to create various catchy, intense and interesting arrangements. Founded in 2008 in Heidelberg, Germany, the searing strings, swirling Hammond organ and pounding drums condensed rapidly to form a nebulous cloud of loosely jammed, spaced-out, rocking riffs, rotating freely around some of the most ancient soundscapes from the astral end of the Pink Floyd to the depths of galaxies such as Black Sabbath. Buddha Sentenza has continued to expand, drawing energy from contemporary constellations as well. Thus, its elements follow the trail of early rock psychonauts and modern riffrockers alike, fusing droning riffs, screaming solos and cosmic harmonies into an instrumental sound experience that defies any strict genre boundaries. The result is a perfect match of psychedelic, stoner and hard driven improvised acid rock.
Zeitloser, progressiver und psychedelischer Krautrock! Buddha Sentenza tauchen so tief in die Musik der frühen 70er Jahre ein, wie es nur wenigen aktuellen Bands gelingt. Das im Jahr 2008 in Heidelberg gegründete Quintett verbindet freie Improvisationen und eine vielseitige Instrumentierung mit großer Musikalität und erschafft dadurch sowohl knackige, eingängige Passagen als auch intensive, überraschende Arrangements. Ausufernde Gitarrensoli, fuzzige Bassbombardements und treibende Rhythmen verschmelzen mit einer wilden Hammond-Orgel zu einer weiträumigen, nebulösen Klangwolke, aus der Bezüge zu den Galaxien eines Pink Floyd- oder Black Sabbathuniversums aufblitzen. Elemente früherer Psychonauten mischen sich mit modernen Rocksounds zu einem instrumentalen Hörerlebnis, welches allen strengen Genregrenzen trotzt. Das Ergebnis ist eine perfekte Ergänzung der Bandbreite psychedelischer Experimentalmusik, Stonerriffs und treibenden Acid Rocks. Ein Genuss für jeden Krautrocker!