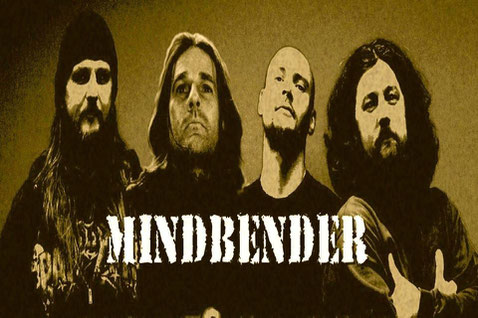 KALIFORNIA CROSSING PROUDLY PRESENTS:
MINDBENDER
MINDBENDER (übersetzt etwa: Gehirnverzerrung, - verwirrung) ist eine 4-Mann-Combo aus Rendsburg und Kiel, Schleswig-Holstein – gegründet im September 2009. Vor einiger Zeit von einem Tontechniker treffend als `Klötenrock` bezeichnet, haben es sich Lechte (Vox), Mr. Godzilla (4), Buschi (6), Magneto (Drums) zur Aufgabe gemacht, amtlichen, erdigen und doomigen Punk`n Roll-Ambossrock dem stetig wachsenden Publikum zu präsentieren. Die erste EP (erschienen im Jan. 2011, "Stones, Bones, Rock`n Roll"), fand schnell reißenden Absatz, so dass es zu einer 2. Auflage kommen musste. Auch die verschiedensten Reviews bezüglich der ersten EP (u.a. Uncle Sally`s, RockTimes, NOK-Out, DreMuFueStiAs, etc.) waren durchweg der Oberhammer. MINDBENDER Shows sind definitiv ein Erlebnis und die Reaktionen des Publikums zeigen deutlich, dass die Leute mehrMINDBENDER wollen. Nun ist zum Jahreswechsel 2013 / 2014 der erste Longplayer "Burn `em slow" erschienen, zu dem der Metal Hammer in der Januarausgabe passend titelte:
"…ungeschliffene Stoner-Metal Perlen wie die tonnenschwere Hymne `Limits to the sky`, das pechschwarze Groove-Monster `Pinnacle` und der Dicke-Hose-Rocker `No more moaning` lassen grüßen. …Ein unüberhörbares Potential für weitere Heldentaten!"
…Nein, MINDBENDER ist keine Combo `von der Stange`, die sich versucht anzupassen. Das MINDBENDER Monster ist ein Konstrukt, ehrlich und handgemacht, das stetig durch Live-Gigs genährt werden muss. MINDBENDER ist laut, tief, gewaltig. Emporgekrochen aus dem hohen Norden, schleichend sich annähernd, um dann mit einem Satz in die Gehörgänge eingepflanzt zu werden und Gedanken zu verzerren.
MINDBENDER (translated as: brain distortion - confusion ) consists of four folks from Rendsburg and Kiel, Schleswig -Holstein - founded in September 2009. Some time ago by a sound engineer aptly declared as 'Klötenrock', Lechte ( Vox), Mr. Godzilla ( 4), Buschi (6 ), Magneto ( drums) set themselves the goal to present an earthy and doomy punk 'n' roll-anvil-rock
to the steadily growing audience. The first EP (released in Jan 2011 " Stones, Bones, Rock` n Roll ") sold like hot cakes, having to go into 2nd edition. Also the variety of reviews regarding the first EP (including Uncle Sally `s, Rock Times, NOK -Out, DreMuFueStiAs, etc.) were consistently randy. MINDBENDER shows are definitely an experience and the reactions of the audience clearly show that people want more MINDBENDER. Now in 2013/2014 the first album "Burn `em slow " appeared to which Metal Hammer fittingly utter in their January issue:
"...unpolished stoner-metal-beads like the heavy-weight -anthem of 'limits
to the sky', the pitch-black groove Monster 'Pinnacle' and the cojones-rocker 'No more moaning'. An...unmistakable potential for further feats!"