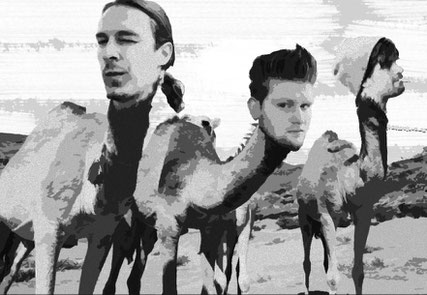 KALIFORNIA CROSSING PROUDLY PRESENTS:

CAMEL DRIVER
Melodious vocals and eclectiv lyrics, that´s what you can expect from Camel Driver -NOT!-
Founded in 2012, the Camels unite Stoner Rock with oriental sounds of hummus and mint, Prog elements and some finesses more. They spit you the sound of their instruments into the face like a pissed off lama. They survived the first ride through the desert of a bands tourlife without a sunstroke and already protect their humps for the next gigs.
Wohlklingender Gesang und vielschichtige Songtexte erwarten Euch bei Camel Driver – NICHT! –
2012 gegründet, vereinen sie Stoner Rock mit orientalischen Klängen von Hummus und Minze, Prog-Elementen und so einigen Finessen mehr. So spucken sie Euch den Klang ihrer Instrumente ins Gesicht wie ein angefressenes Lama. Den ersten Ritt durch die Wüste des Tourlebens haben sie ohne Sonnenstich überlebt und schonen schonmal ihre Höcker für die nächsten Ausritte.