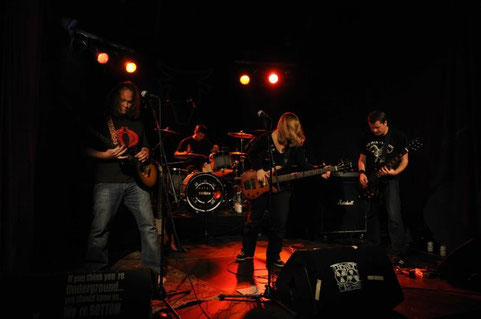 KALIFORNIA CROSSING PROUDLY PRESENTS:
THE UNFUZZBARN
A decade of jamming brought THE UNFUZZBARN onto several stages to blast away the listening crowds (speak: krauts).Their brandmark is the genuine mixture of different musical styles set on top of a redmarked pillar made out of their love to low-tuned desertblues. With a knowing smile they serve this dish of cracking riffs, enriched with lower tunes and garnish it with jam-parts, that even the hardest coolplayer in the audience crack a smile or gape, while they nod their heads.
MADE LOUD TO BE PLAYED LOUD - THE UNFUZZBARN
Seit durchgejammten zehn Jahren beschallen THE UNFUZZBARN mittlerweile die Konzertsäle und Festivals in der Republik. Die Mischung unterschiedlicher Musikstile ist seit jeher ein Markenzeichen dieser Band aus Diepholz, wobei die Liebe zum Wüstenblues ihre Songs wie ein roter Faden (oder besser wie tiefergedrehte Gitarren) begleitet. Knackige Riffs, wuchtige Tiefen und ausufernde Jamsongs liefert die Band aus der Freakquenzy Records-Familie mit einer Spielfreude ab, die selbst dem härtesten Motherfucker auf dem Gelände ein Lächeln in`s Gesicht dröhnt.
MADE LOUD TO BE PLAYED LOUD - THE UNFUZZBARN