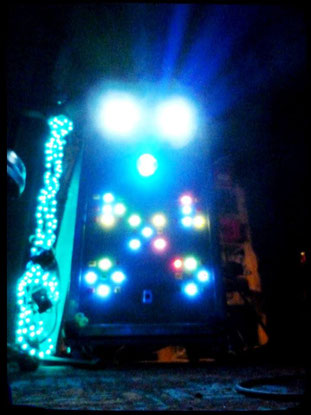 KALIFORNIA CROSSING PROUDLY PRESENTS:
SPACEKLOTZ
Founded somewhere in 2008 Spaceklotz are playing everywhere at any given opportunity since 2010 and were able to gain a loyal fanbase since today. In 2013 the first selfproduced and -distributed 5 song demo "Infrademo" was released. As in their Sci-Fi. Horror and B-Movie themed lyrics, spaceklotz will also show you live that not everything has to be taken to serious. The audience will witness an extraordinary, spaced-out rockshow with theremin, synths, samples and robot.
May the klotz be with you!!
Irgendwann 2008 gegründet spielen Spaceklotz seit 2010 überall wo sich die Gelegenheit bietet und konnten sich so schon eine treue Fanbase erspielen. 2013 wurde das erste selbstproduzierte und vertriebene 5-Song Demo "Infrademo" veröffentlicht. Wie in Ihren unter dem Thema Sci-Fi, Horror und B-Movie stehenden Texten zeigen euch Spaceklotz auch live das nicht immer alles zu ernst genommen werden muss. Es erwartet die Zuschauer eine außergewöhnliche, spacige Rockshow mit Theremin, Synthesizer, Samples und Roboter.
Möge der Klotz mit euch sein!!