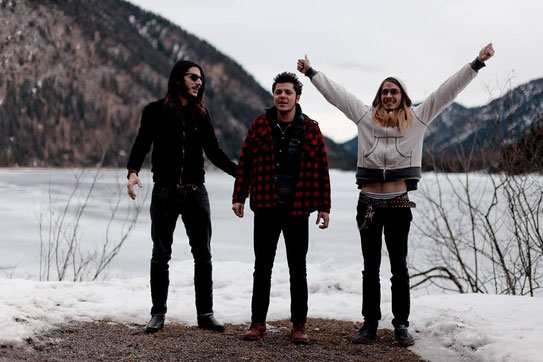 KALIFORNIA CROSSING PROUDLY PRESENTS:
LIBIDO FUZZ
Libido Fuzz is a heavy tuned hard rocking psychedelic boogie band.
The three piece out of Bordeaux/France, Nick Blazy (Bass), Thibault Guezennec (Drums) and Pierre-Alexis Mengual (Vocals/Guitar), started up in 2012 with their mind blowing and unique sound. Libido Fuzz combines classic elements of finest 70's psychedelic music and mixes it up with tasty hard driven Blues stuff. In 2013 Libido Fuzz was on tour, sharing the stages in southern Europe with acts like Kadavar, The Machine, Sungrazer and Mars Red Sky and built up a huge fan base, that shows how energetic and intensive the bands' style is. Listening to the fuzzy and crispy sound of Libido Fuzz is like a liquid heavy shockwave! It's blowing your mind away, we'll bet! In Februar Libido Fuzz completed their first tour in Germany. They are already booked for some fine Festivals in summer and a European tour is in the pipeline for October this year, also the first longplayer will be released in October via Pink Tank Records!
Libido Fuzz, ist das psychedelische Schwergewicht aus dem Süden Frankreichs!
Der Dreierpack aus Bordeaux, Nick Blazy (Bass) , Thibault Guezennec ( Drums ) und Pierre -Alexis Mengual ( Gesang / Gitarre), ist seit 2012 am Start. Libido Fuzz vereinen klassische 70er psychedelic Momente mit knackigen Stoner/Blues Passagen. Dabei kreieren sie einen unverwechselbaren Sound, der die Fontanelle zum vibrieren bringt! Bereits 2013 teilten Libido Fuzz Bühnen in Südeuropa mit Acts wie Kadavar , The Machine , Sungrazer und Mars Red Sky. Der energetische und intensive Stil dieser Auftritte bescherte den Jungs eine beachtliche Fangemeinde und zeigt, dass man Libido Fuzz in keinem Fall live verpassen sollte! Im Februar beendeten Libido Fuzz ihre erste, sehr erfolgreiche, Tour in Deutschland. Sie sind bereits für einige Festivals im Sommer gebucht und eine Europa-Tour im Oktober ist in der Pipeline. Ebenfalls im Oktober diesen Jahres erscheint der erste Longplayer auf Pink Tank Records!