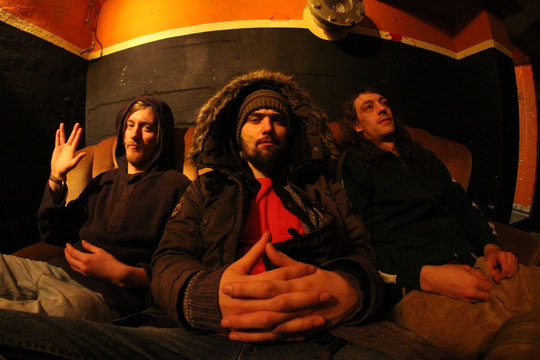 KALIFORNIA CROSSING PROUDLY PRESENTS:
BONE MAN
Bone Man ist eine Grunge/Psychedelic Rock-Band aus Norddeutschland. Wir gründeten uns in jugendlichen Zeiten allumgreifender 'teenage angst', die von Wut, Unsicherheit und Unzufriedenheit geprägt waren und beschäftigen uns thematisch seit ehedem mit den hirnzersetzenden Unsäglichkeiten des Lebens, mit der Vergiftung und Verkümmerung der menschlichen Seele in einer Welt des irdischen Wohlstandes und der geistigen Armut. In unserer fünfjährigen Schaffenszeit haben wir zwei EPs, zwei Split-Scheiben mit einer deutschen respektive einer italienischen Band, eine Single auf Mini-CD und ein Studioalbum auf Vinyl herausgebracht. Unsere nächste Veröffentlichung steht im Herbst 2014 an. Seit 2009 sind wir mit Unterbrechungen quer durch Mitteleuropa getourt, unter anderem durch Deutschland, Dänemark, Schweden, Norwegen, Österreich, Belgien und Italien. Es dreht sich alles um rohe Fuzzgitarren, Wut, menschliche Unzulänglichkeiten, den spirituellen Abgrund und die inneren Sumpflandschaften. Zur Hölle damit!
Bone Man is a grunge/psychedelic rock group from northern Germany. The band has been shaped in times of pervasive teenage angst, and has ever since been about the corrosive hardships of life that contaminate the soul and the people in a world of mundane welfare and growing mental poverty. During our 5 year-life span we have released two EPs, two split records with a German and an Italian band, one single on mini CD and one full-length album on vinyl. Our next release is scheduled for autumn 2014. Since 2009, we have been touring on and off through Middle Europe, including Germany, Denmark, Sweden, Norway, Austria, Belgium and Italy. This is all about raw fuzz rock, anger, human deficiencies, the spiritual abyss and the inner swamplands. To hell with it!