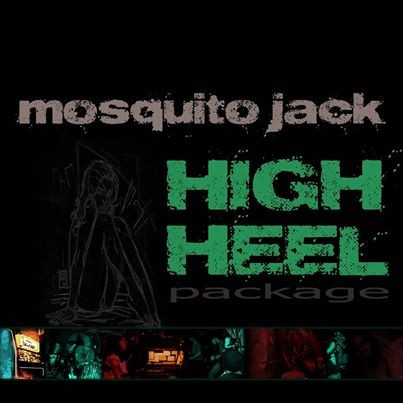 KALIFORNIA CROSSING PROUDLY PRESENTS:
MOSQUITO JACK
On a hot mid-summer day I park my car in front of a run-down building in an ugly small town. The first thing I hear is the awe-inspiring, fuzzy bass of a noisy rock band. It isn't until the guitar kicks in that I can tell this is supposed to be an actual song. I am about to meet Mosquito Jack in their rehearsal space to get an impression of their live performance. MotoRocK is what I was told it is. The band's guitarist and song writer, Nico, opens the steel door. The air is thick with smoke, sweaty, hot. A tiny light bulb dangling from the ceiling is all there is to light up the gloomy dark. The depressing hum of the huge adds to the depressing atmosphere. The rest of Mosquito Jack is Mikko on vocals, Timo on drums, and Marciño on bass. None of them will talk much during my short stint at the Jacks'. Nico hastily finishes his cigarette before tackling the first song on the list. In pain I realize that despite the tremendous noise level, ear plugs appear to have run out of fashion at the Jacks'. I realize that despite the heat, no clothes are taken off. Mosquito Jack wallow in their own dirt and feel nothing short of great. Thick, juicy guitars clearly rooted in stoner rock. Fast drums with lots of toms and cymbals. Bass lines pumping on in straight eighths: here comes Mosquito Jack!
…an einem heißen Sommertag parke ich vor einem alten Gebäude. Als ich aussteige, dröhnt mir sogleich der brachiale bass einer deutlich lauten Rockband entgegen. Ich werde Mosquito Jack in ihrem Proberaum besuchen. "MotoRocK", wurde mir zugetragen. Es öffnet mir Nico, seines Zeichens Gitarrist und Songschreiber der Band, persönlich die stählerne Tür. Die Atmosphäre ist düster, die Luft verraucht, stickig, heiß. Eine einsame Glühlampe muss den dunklen Raum mit Licht versorgen. Die einzige Begrüßung bereitet mir das respekteinflößende Rauschen der Verstärker. Weder Drummer Timo, Bassist Marciño noch Mikko am Gesang geben sich redselig. Nico raucht hastig seine Zigarette auf, bevor die Gruppe dann zum Angriff bläst. Mit Schrecken bemerke ich, dass Ohrenstöpsel hier trotz des unmenschlichen Lärmpegels aus der Mode sind. Mosquito Jack suhlen sich in ihrem Dreck und fühlen sich sichtlich wohl dabei. Ein fetter Gitarrensound, der seine Wurzeln klar im Stoner-Rock hat. Ein Schlagzeug im Up-Tempo, das Breaks und Beckenschläge nicht scheut. Unten herum ein geradliniger Bass: Das sind Mosquito Jack.