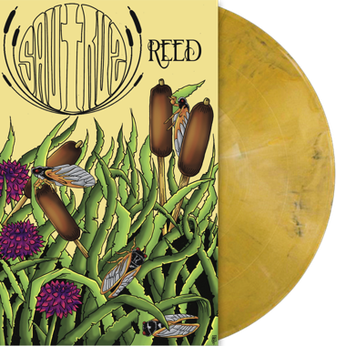 RELEASE DATE 12.09.2014
Here we go! From now on you can order the strictly limited Pink Tank mail order edition of REED: CHAPTER ONE!
- 100 hand numbered copies on gold/black marbled vinyl
- 350g heavyweight cover
- black poly inner sleeve 
- incl. exclusive poster
- incl. download code for the whole album
- high quality vinyl pressed in Germany
This is the first longplayer from our family members SAUTRUS and it is a blast at all! Take the chance to get your copy as an early bird order for only 15.- Euros until the 01.09.2014. If they are not gone until this date we will raise the pricing up to 20.- Euros. Be quick and get your copy now!!! Why?
"Though the main focus is those god-damn awesome riffs as Sautrus make sure this album ends with an almighty BANG!!! Reed: Chapter One is an excellent album from these highly talented Stoner Rocks. Roll on Chapter Two!!!"
"Do yourself a favour, listen to the bandcamp, buy it for now digital so you receive the full album and save you money for buying the physical vinyl version later in the year. Dutch European Stoner rock highly recommends this record."
(DUTCH & INTERNATIONAL STONER ROCK)
Top rating at THE RIPPLE EFFECT mid-year-favs!