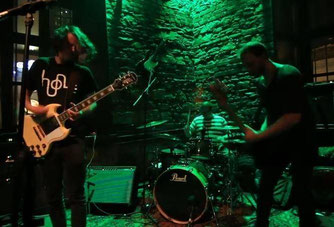 We're proud and honored that the massiv three piece KALAMATA joins the Pink Tank Family from now on! We will release the highly respected self titelt debut on vinyl, which is scheduled for September 2015! The following, second album will be also released via Pink Tank Records and is scheduled for early 2016.
Up your glasses! Jamas Malakas!
"The Hildesheim based trio performs instrumental psychedelic- stoner rock combined with original space-rock and heavy doom parts. Driving bass riffs and colourful guitar-patterns emerge on top of a deep rolling rhythm section. This instrumental music will guide you through the night like LSD while you´re sitting on a wild cow`s back."
Leave your thumb here: FACEBOOK
Enjoy the sound of KALAMATA here: BANDCAMP
Watch the tour video here: TOUR VIDEO