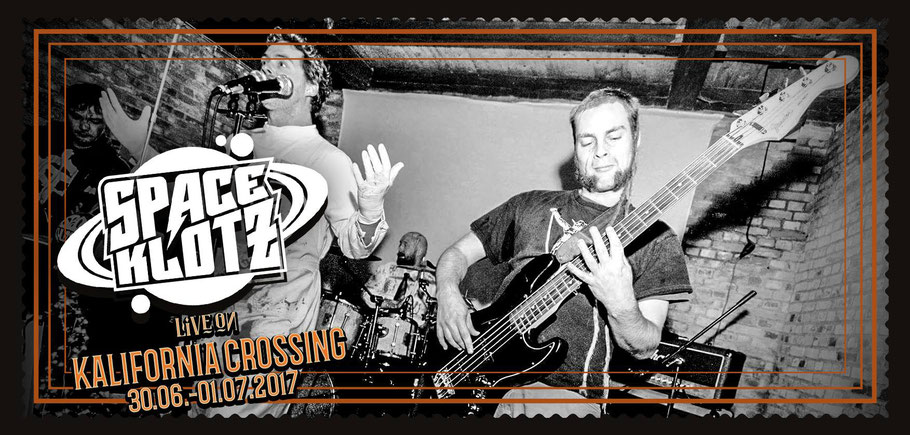 Sci-Fi Trash vs. Rock!
Since 2008 SPACEKLOTZ is serving odd stories about genius and insanity, visitors from outer space, the end of mankind and a whole lot more curiosities! Performed in a brute fusion of Rock/Punk/Metal/Doom/Psychedelic with a very own and unique touch.
In 2013 the first, now sold out, selfproduced and -distributed 5 song demo "Infrademo" was released. Right now SPACEKLOTZ are writing songs, working on their first full-lenght and playing shows.You will witness an extraordinary, weird and spaced-out rockshow!!
Yet garnished with a pinch of humor, a lot of power and the robot called H.E.L.L.
May the klotz be with you!!
Sci-Fi Trash vs. Rock!
SPACEKLOTZ servieren euch seit 2008 skurrile Stories von Genie und Wahnsinn, Besuchern aus dem All, dem Ende der Menschheit und noch viel mehr Absonderlichkeiten! Präsentiert in einer brachialen Fusion aus Rock/Punk/Metal/Doom/Psychedelic
mit einer ganz eigenen, sehr speziellen Note. 2013 wurde das erste, mittlerweile ausverkaufte, selbstproduzierte und -vertriebene Demo "Infrademo" veröffentlicht. Zurzeit schreiben SPACEKLOTZ Songs, arbeiten am ersten Longplayer und spielen live. Es erwartet euch eine außergewöhnliche, schräge und spacige Rockshow!! Garniert mit einer Prise Humor, viel Power und dem Roboter H.E.L.L.
Möge der Klotz mit euch sein!