THE KALIFORNIA CROSSING FESTIVAL IS BACK – AND MIGHTILY SO!
30.06.2017 - 01.07.2017
Wer bereits 2014 mit dabei war weiß, was für eine geile Sause das war. Um dem Spirit und der Atmosphäre noch gerechter zu werden, haben wir in den letzten Jahren nach einer neuen Location gesucht. Das Hauptaugenmerk lag hierbei natürlich auf Euch, den Besuchern, und unseren ganz eigenen Ansprüchen an ein richtig fettes Festival-Wochenende. Höchstmöglicher Komfort, extrem kurze Wege und eine tolle, naturnahe Umgebung, am besten mit einem schönen See zum Abkühlen. Wir haben diesen Platz, direkt am Plöner See, gefunden! Aber natürlich erwartet Euch nicht nur eine tolle Location, sondern auch:
20 Bands auf zwei Bühnen, zwei Tage Stoner- & Psychedelic-Rock vom Feinsten, Veganes und Fleischiges, günstige Getränke, Headbangen oder Chillen am See, Schlafen im eigenen Zimmer oder Campen direkt am See, Freunde mitbringen und neue Freunde finden, einfach eine geile Zeit haben! Wir freuen uns mächtig auf Euch!

Euer Kalifornia Crossing-Team

Whoever joined us already back in 2014 will remember the party we've had!
In order to live up to this spirit and the atmosphere of those days, we have been searching for a new location over the last years. Naturally, we were focussing on you, the festival visitors, and on our very own standards of a really wicked festival weekend. The best possible accommodation, short walking distances and a neat, close-to-nature setting, preferably with a nice lake to cool down in. And we found this place, right next to Lake Plön in Schleswig-Holstein, Germany! But of course, there is not only a great location waiting for you. What we have in store:

20 bands on two stages, two days of stoner and psychedelic rock at its finest, vegan and non-vegan food, cheap drinks, headbanging and hanging out by the lake, accommodation in your own hostel room or camping by the lakeside, partying with old friends and making new ones, simply spending a great time! We can't wait to meet you!

Your Kalifornia Crossing Team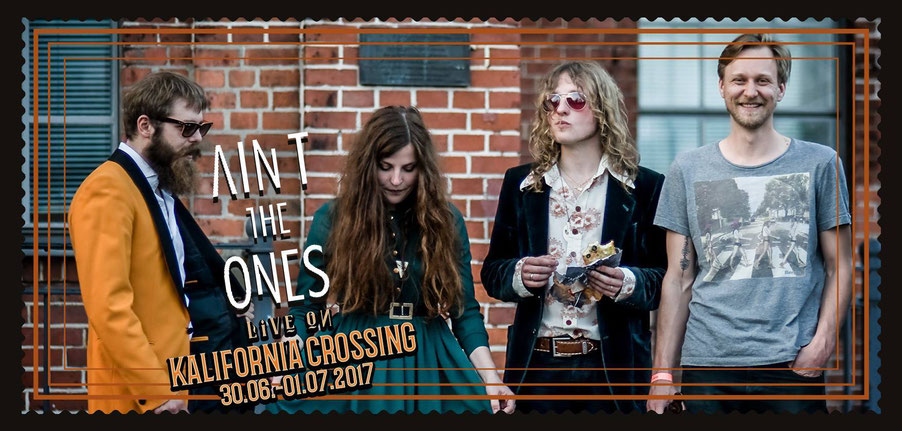 Ain´t The Ones ist eine Rockband aus Norddeutschland, die mit Zutaten von Blues, Psychedelic Rock und Funk ihre eigene Suppe kocht, welche zum vollen Genuss am besten live verspeist wird um den Groove am ganzen Körper zu spüren. Mit klassischer Rock-Formation von Gitarre, Bass, Drums und Keys wird der Spagat zwischen straightem Roots Rock orientiertem Groove Rock und atmosphärisch waberndem Psychedelic Blues geschaffen, dem es nie an Definition fehlt. Angefangen hat es als Schulband mit Orientierung an die Classic Rock Bands, auch wenn der Kurs nicht wirklich geändert wurde, steuerten bis Sommer 2016 unterschiedliche Musiker den musikalischen Hafen Kiels an und so besteht Ain?t The Ones heute aus dem Urmitglied, Sänger und Gitarristen, Tobias, der vor einigen Jahren seine Schwester, Myriam, an die Keys und später hauptamtlich an die Vocals holte. Wie es der Zufall wollte, entpuppte sich Freund und Studienkollege Carl als hervorragender Bassist, der sein Handwerk versteht und buchstäblich den Groove mit Löffeln gefressen hat. Der einzige Nicht-Kieler, wenn man so will, David, den die Band in Holland kennengelernt hatte, wurde ein langjähriger Freund der Band, der schon häufiger an den Sticks bei Ain´t The Ones ausgeholfen hatte und nun fest zur Band gehört. Nach etlichen Auftritten in Norddeutschland, einigen Ausflügen über die Landesgrenzen hinaus und etlichen Demotapes, arbeitet die Band stetig an einem knackigen Live-Set, sowie neuen Songs.
Ain´t The Ones is a rock group from northern germany that mixes ingredients from blues, psychedelic rock and funk to create an unique soup, which is best to eat live to feel the groove that goes through your spine and bones. With the classic rock formation of guitar, bass, drums and keys, the band combines straight roots rock oriented riffs with atmospheric wobbling psychedelic blues that never lacks of definition. It all started as a school band with a love for the classic rock tones from the 60ies and 70ies, even if the course was not really altered, different musicians were driving the musical port of Kiel until summer 2016. And so today Ain?t The Ones consists of the original member, singer and guitarist Tobias, who brought his sister Myriam to the keys a few years ago and later on to the vocals. As luck would have it, friend and study colleague Carl turned out to be an excellent bass player who understood his craft and literally eaten the groove with spoons. The only one, who ain?t got his neck of the woods in northern Germany, is David, whom the band hat met in Netherlands, became a longtime friend of the band, who had already helped more often on the drums for Ain´t The Ones and now belongs to the band. After several shows in northern Germany, some trips beyond the borders of the country and several demo tapes, the band is constantly working on a crisp live set, as well as new songs.