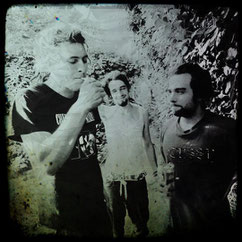 BURN PILOT is a  psychedelic hardcore trio founded 2005 in Bielefeld, Germany. The brothers Sidney (drums & vocals) & Joel (bass) flanked by their soulmate Jonas (guitar) already released six studio recordings and played over 500 gigs worldwide! 
After the collaboration with the vinyl release of "Riots In Jerusalem", the guys decided to join the Pink Tank family. We will release the upcoming album and a split vinyl, soon! Also BURN PILOT will join some Pink Tank Festivals this October.
Here we go with another new one by Burn Pilot! Krautrausch will be on The Taurus Triangle which will hit the stores this Friday! ENJOY!
THE WHOLE FAMILY