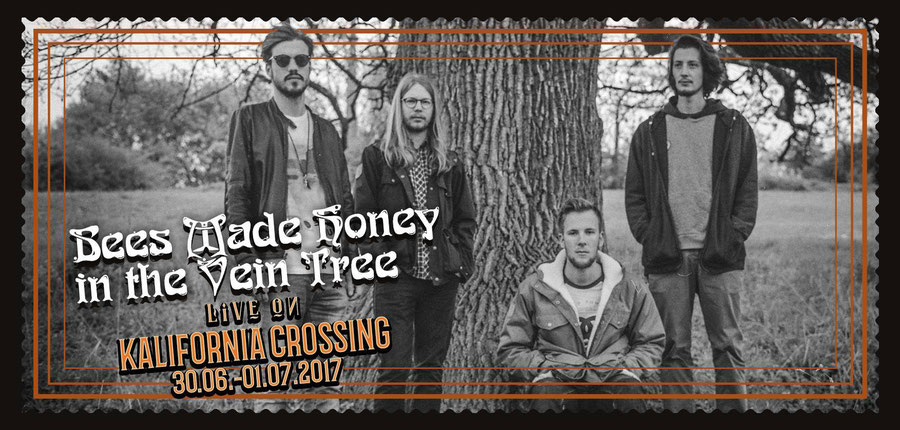 Bees Made Honey in the Vein sind eine Stuttgarter Psychedelic Doom Band. Seit sie sich 2014 gründeten sind die Kontraste zwischen hell und dunkel, laut und leise, untrennbarer Teil ihrer Musik geworden. Obwohl sie sich größtenteils auf instrumentale Musik konzentrieren, wird sporadisch Gesang eingearbeitet, der die Rolle eines weiteren Instruments einnimmt und außerdem durch die Texte eine visuelle Ebene in die Musik bringt. Ihr Debütalbum "Medicine" vereint all diese Konzepte und liefert ein abwechslungsreiches Hörerlebnis zwischen schweren Doom Riffs gepaart mit schwebenden psychedelischen Sounds. Diese Medizin wird den Hörer wahrscheinlich nicht heilen, nimmt ihn aber definitiv auf eine Reise.
Bees Made Honey in the Vein Tree is a Psychedelic Doom band from Stuttgart, Germany. Founded in 2014, the contrast between bright and eerie, beautiful and heavy, quickly became an inseparable part of their sound. While being mostly oriented towards instrumental compositions, they add vocals that act as an additional instrument and add a visual layer through the lyrics. Their debut record Medicine captures their sound perfectly with its contrasting elements and even paints all the shades in between. This 'medicine' may not cure you, but it will take you on a journey and envelop you in its atmosphere.
Pink Tank Records is distrubuted by Clear Spot. If you like to stock our releases in your record store or online shop please follow the link down below.
Thanks for your support!
OUR FRIENDS & SUPPORTERS